Record Bear? Depends On Who You Talk To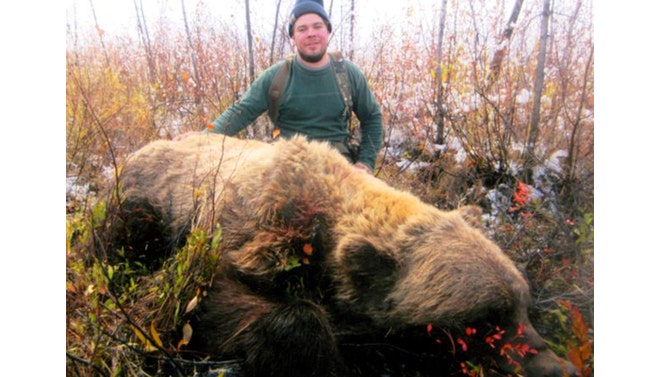 Record? Or Not? Photo courtesy of Larry Fitzgerald
The debate about records amuses me. Baseball's true home run king? Barry Bonds' detractors say he wasn't clean through rampant rumors of his alleged steroid abuse, and he didn't endure the ignorant racist hate thrown at Henry Aaron – imagine if he Twitter was around in Hank's era? (I'm anything but a Barry Bonds fan – in fact I detested his surly attitude –  and love Hank Aaron's courage, but baseball allowed years of drug abuse by its players, so there's no debating that Bonds hit more home runs than Aaron, so end of argument in that context).
In the outdoor sports world, George Perry's largemouth bass record of 22 pounds, 4 ounces is still official over 80 years later, but several reports have surfaced, like here, and here, and here, that have created plenty of controversy over the most famous fishing record in these parts.
So it's not surprising that another apparent record seems to be in dispute. On Wednesday, media outlets reported a giant grizzly bear harvested by hunter Larry Fitzgerald in 2013 was determined to be the largest bear ever taken by a hunter. 
Here's a portion the Fox News report:
Although Fitzgerald shot the bear last September, Boone and Crockett, which certifies hunting records, has only now determined the grizzly, with a skull measuring 27 and 6/16ths inches, is the biggest ever taken down by a hunter, and the second largest grizzly ever documented. Only a grizzly skull found by an Alaska taxidermist in 1976 was bigger than that of the bear Fitzgerald bagged.
Bears are scored based on skull length and width measurements, and Missoula, Mont.-based Boone and Crockett trophy data is generally recognized as the standard. Conservationists use the data to monitor habitat, sustainable harvest objectives and adherence to fair-chase hunting rules.
But the Anchorage Daily News has a different take on the subject today, arguing that some of the news hasn't been completely accurate, if technical:
Here's the ADN's Craig Medred on the confusion:
That a nine-foot grizzly is the largest bear killed by a hunter in Alaska is likely to come as a surprise to Alaskans, some number of whom — hunters or not — might have seen 10-foot grizzly bears. This small fact, however, seems not to have entered the consciousness of the mainstream media as of yet.
"Alaska bear largest to be killed by hunters," headlined The Spokesman-Review in Washington state.
"An Alaska hunter bagged a massive grizzly bear that has been certified by the Boone and Crockett Club as the biggest bruin ever taken down by a hunter," reported the New York Daily News.
Well, not exactly. There is no doubt that 35-year-old auto body repairman Larry Fitzgerald killed a nice trophy, but lost in all of the hullabaloo over his bear is the fine print that defines Alaska's record bruins.
Fitzgerald's kill is a record bear only because it was shot north of the Alaska Range. South of those mountains slicing through Denali National Park and Preserve, his bear would be just another big bear. That's because the record-keeping Boone and Crockett Club arbitrarily splits Alaska brown/grizzly bears into two separate categories — grizzly bears and brown bears. The world-record Alaska brown bear, taken in Kodiak in 1952, is much larger.
The state of Alaska doesn't recognize the distinction between a grizzly bear and an Alaska brown bear, nor do wildlife scientists. Both say the only real difference is diet.
Read more here: http://www.adn.com/2014/05/07/3460036/giant-grizzly-is-one-for-some.html?sp=/99/474/#storylink=cpy
So there you have it. Another debate for two hunters to have while sharing a Happy Hour draft at pubs everywhere.