It's #NationalTakeAHike Day: Here Are Some Of Alaska's Best National Park Hikes
Katmai National Park reminds visitors that the entire nation – including Alaska – contains some great hikes. The National Park Service has an interactive map of some of the best hikes in America in its national parks.
The interactive maps include several outstanding hikes in Alaska.
Here are some hiking options at Alaska national parks:
Bartlett Cove is the only developed area within Glacier Bay. The forests and shorelines offer great hiking opportunities. Several easy trails begin here. Spend some time, stretch your legs, and discover the wonders of YOUR park.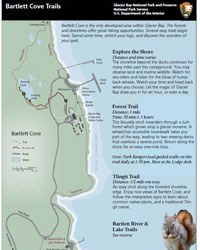 Bartlett Cove Trail Guide
Trails in Bartlett Cove are short and quite easy to follow. This map depicts the general routes of the Forest Trail, Tlingit Trail, Shoreline Trail, Bartlett River, and Bartlett Lake Trail.
Forest Trail:
Distance: 1 mile loop/Time: 30 min.-1.5 hours.
This loop trail will take you through both the temperate rainforest and the beach environments of Bartlett Cove. Begin your walk either in front of the Lodge (just off the parking lot) or south of the boat ramp between the docks. The trail surface varies between dirt, gravel and boardwalk. Two benches and viewing platforms along the way beg you to pause and take in the sights and sounds of the spruce/hemlock forest. To discover the stories of this amazing area, join a park ranger for a guided walk along this trail every afternoon.
Bartlett River Trail:
Distance: 4 miles round-trip/Time: 4-5 hours.
This trail meanders along an intertidal lagoon and through the spruce/hemlock forest before emerging and ending at the Bartlett River estuary. Watch for coyotes, moose, bear and river otter along the beach. Ducks, geese and other water birds concentrate in the intertidal area during migrations and molting. Salmon run up the river in the latter part of the summer, which attracts hungry harbor seals.
Bartlett Lake Trail:
Distance: 8 miles round-trip/Time: 7-8 hours.
Begin walking on the Bartlett River Trail. In about ¼ of a mile down the trail at a signpost, the lake trail will branch off and begin to climb the moraine. This trail is less maintained than the other trails so use caution to not lose the route. The chatter of red squirrels will accompany you as you wind your way over and around moss-covered boulders and lichen-covered trees before reaching the shores of Bartlett Lake. During this full-day journey, you may be richly rewarded in solitude and the perhaps even the call of loons. Bring water, lunch and raingear.
Hike to Bartlett LakeLooking for a fun day hike? Join Ranger Sarah and learn why the Bartlett Lake Trail may be your perfect choice.DURATION:5 minutes, 47 seconds
Tlingit Trail
Distance: 1/2 mile one way
An easy stroll along the forested shoreline edge in front of the Glacier Bay Lodge. Enjoy nice views of Bartlett Cove. See a traditional Tlingit canoe, gaze at a complete whale skeleton, learn abut common native plants, and experience Tlingit culture and art at the Huna Tribal House.
Explore The Shore:
Distance: Varies
The long stretch of shoreline south of the Bartlett Cove docks allows for a pleasant stroll. You could walk for miles. An extended hike to Point Gustavus (six miles one way) can be completed in a full day. Low tide reveals a myriad of intertidal life. (Please walk carefully!) It's a terrific place to see land, shore and sea birds. Listen for the breathing of humpback whales, feeding sea otters, and bald eagles. Flowers are profuse in mid-summer on the beach meadows. Let the magic of Glacier Bay surround you for an hour or even a full day.
Wilderness Hiking
There are no maintained trails in park wilderness, but beaches, recently deglaciated areas, and alpine meadows offer excellent hiking.
Be prepared to tangle with the alder. Sitka alder is a successional plant that grows in a mass along beach and stream edges, avalanche chutes and up mountain slopes. Hikers have been known to lose their minds attempting to hike through alder.

A Slip of the Foot
Due to the amount of moisture here in Glacier Bay, walking can be tricky. Wet docks, wooden walkways, logs, rocks and tree roots can be very slippery and create tripping hazards. Trails are often muddy and slick. To minimize risk, wear sturdy shoes with good traction. Rubber boots (SE Alaskan Sneakers) are popular here. Watch where you are stepping and take your time!
Be a Smart Hiker
———————————————
Klondike Gold Rush National Historic Park
Hiking Around Skagway
National Park Service Photo
Smuggler's Cove is a great place to go for a picnic, rain or shine. NPS Skagway is situated in the heart of coastal Alaska. This area offers ocean views, mountain peaks, boreal forest, lakes, waterfalls, and more.Most visitors arrive in Skagway by cruise ship rather than bringing their own transportation. To help you plan, this page is organized by how far a trailhead is from Skagway's Historic District. You can also select hikes based on their difficulty level, regardless of where they are located.

Shorter Hikes

Moderate Hikes

Difficult Hikes
Dewey Lakes Trail System
Located very close to Skagway's Historic District, this trail head leads into Spruce and Hemlock forests. The trails offer few panoramic views, but are completely submerged in Alaskan nature. From this trailhead you can access:
Skagway River Bridge Trailhead
3/4 of a mile from Skagway's Historic District, this trailhead provides access to trails that wind along the coastline and up a mountain, allowing for amazing panoramic views of the valley and breathtaking scenes of the most northern point of the inside passage. From this trailhead, you can access:
Gold Rush Cemetery & Lower Reid Falls Trail
The Gold Rush Cemetery is a fancinating place to explore. A short walk past the cemetery is Lower Reid Falls. This area is about a 1.5 mile walk from the visitor center.
Dyea Trails
9 miles from Skagway is the ghost town of Dyea. To get to this area you will need to arrange for transportation by driving, biking, or purchasing a shuttle. Trails include:
Railroad Trails
Enjoy a ride on the world famous White Pass & Yukon Route train to access two area trails. Both trails are moderately difficult. Plan carefully with the train schedule to make a day hike or stay overnight at a Forest Service public use cabin to enjoy the trails without rushing. Learn more:
———————————–
Wrangell St. Elias National Park
Hiking in Wrangell-St. Elias can be spectacular and we encourage you to do it! Most of our hiking trails are maintained for the first few miles and then become routes. Click on the below links to find out more and to discover the trails in each of the park's visitor services areas.
There are two ways to hike in Denali—on a marked trail, or off-trail in nearly any direction you choose.
Trail hiking
There are not very many marked trails in Denali, and most of the trails here are short (less than 2 miles) and near the park entrance. One of the reasons Denali exists is to provide people with a place to explore a trail-less wilderness, and a result of this is a limited trail network.
Off-trail hiking
Hiking off-trail can seem intimidating at first, but is a memorable and unique experience. The information on this page aims to provide you with some knowledge of where and how to begin such an adventure, but you may want to talk to a ranger upon arriving to clarify any questions or concerns you have before starting a hike.
Katmai National Park and Preserve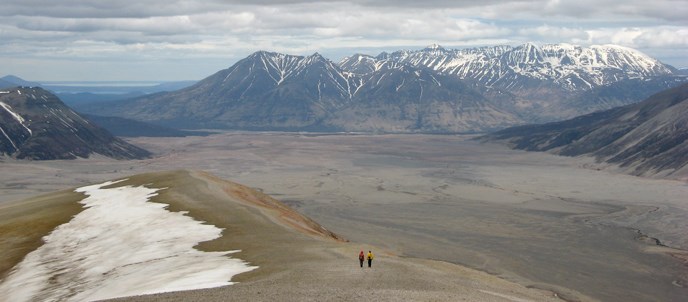 With less than five miles of maintained trails, Katmai is a wilderness park. Its backcountry is filled with nearly limitless possibilities for adventure, challenge, exploration and solitude. Wilderness travel can be by foot, kayak, canoe, raft, boat or airplane.
Most backcountry users find that they need skills beyond basic camping skills to have a safe and memorable experience. No permits are necessary to camp in Katmai's backcountry, but careful planning is necessary in order to have a safe and enjoyable visit. Explore the links below to begin planning your backcountry adventure.
Backcountry Regulations and Suggested Best Practices
Carry the Ten Essentials
Destinations
Leave No Trace in Katmai
Backcountry Trip Itinerary
Kenai Fjords National Park
The Exit Glacier area is the only part of the park accessible by road.
Here you can explore the trails, walk very close to an active glacier, or take a ranger-led walk.
It is a place where you can witness up close how glaciers re-shape a landscape and learn how plant life reclaims the barren rocky land exposed by a glacier's retreat.

There is no cell phone service or wifi at Exit Glacier.
Seasons
The Exit Glacier Area is open year-round. In late-October to mid-November, the road to Exit Glacier is inaccessible to cars, usually due to snow. The Herman Leirer Road (road to Exit Glacier) is curently closed by the AK DOT at mile 1.3 The Exit Glacier area is still open to winter recreation, including snowmobiles, dogsleds, cross-country skiing, snowshoeing and fat bikes. The road often remains closed through early May, so be sure to check current conditions if you are visiting during the off season (fall through spring).
Directions to Exit Glacier
Turn on to Herman Leirer Road, commonly called "Exit Glacier Road," at mile 3 of the Seward Highway (AK-9). Proceed 8.4 miles. The road will end at the parking lot for the nature center.
Note: There is limited parking at Exit Glacier, especially during the hours of 10:30 am – 3:30pm. Please consider the hours you come, carpooling, bicycling, or taking a shuttle or taxi, when you plan your trip.
(Google Map Coordinates: 60.1782633,-149.6494389)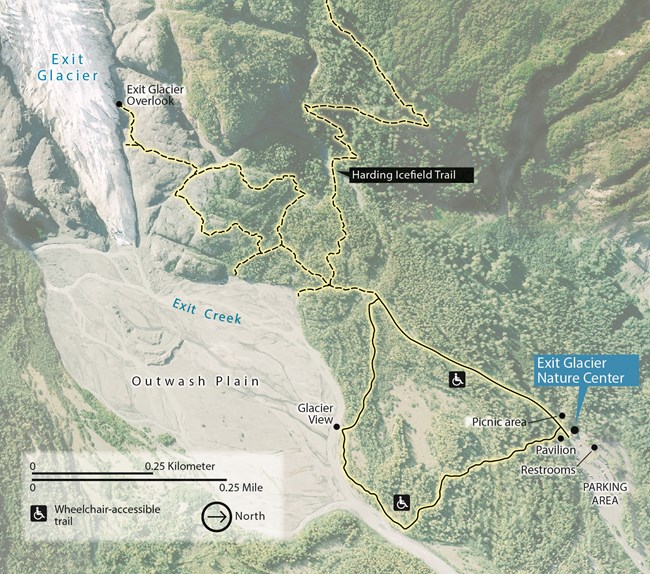 Trails
A network of short trails leads to different views of Exit Glacier, beginning at the Exit Glacier Nature Center and the parking lot. To hike all the trails, start by turning left at the nature center and following the accessible, Glacier View Loop Trail through the cottonwood forest to the Glacier View, a panoramic vista of Exit Glacier spilling down from the Harding Icefield. This one-mile accessible trail loops back to the parking area, or you can turn left at the trail-side kiosk and continue .6 miles on to the Exit Glacier Overlook via the Glacier Overlook Trail.
The Glacier Overlook Trail is a well maintained trail which provides views of Exit Glacier. Follow this moderately strenuous trail to the Exit Glacier Overlook and view the glacier in its own glacially carved valley.
If you are looking for a longer day hike, don't miss the 8 mile round trip Harding Icefield Trail.
Exit Glacier Nature Center
The nature center includes exhibits about the Exit Glacier area, an Alaska Geographic bookstore, and rangers to help answer questions about the area.
Operating hours of the nature center.
Learn a little more about the park by participating in a ranger-led program, which occur daily during the summer.
Flush toilets, near the nature center, are operable from Memorial Day through Labor Day. The rest of the year pit toilets are available.
During the summer, potable water is available at the restroom building, through both water-fountains and a water-bottle filling station. Reusable water bottles are available in the bookstore.
Picnic tables are located next to the parking lot. Bear-proof garbage and recycling bins are also available.
There is a 12-site, tent-only campground available about 1/4 of a mile before the nature center.
Leashed pets and bicycles are allowed on the road to Exit Glacier and in the parking lot. Bikes and pets are not allowed on the trails at anytime.
Harding Icefield Trail
The 8.2-mile round trip Harding Icefield Trail is a spectacular day hike leaving from the Exit Glacier Area. Starting on the valley floor, the trail winds through cottonwood and alder forests, passes though heather filled meadows and ultimately climbs well above tree line to a breath-taking view of the Icefield. The top of the trail is a window to past ice ages – a horizon of ice and snow that stretches as far as the eye can see, broken only by an occasional nunatak, or lonely peak. View from the end of the Harding Icefield Trail. NPS Photo / F. North

The trail is strenuous! Hikers gain approximately 1,000 feet of elevation with every mile. Allow at least 6-8 hours for the hike. Although the view from the top is well worth the effort, you need not hike all the way to the top to experience the wonders of this trail. Even a short hike up the trail affords impressive views of the valley floor and Exit Glacier's terminus.

Be prepared! Check on trail conditions before starting out – the upper portion of the trail is often covered with snow through early July and there may be avalanche danger. Be prepared for storms, high winds, intense sunlight, and sudden temperature changes. Bring warm clothes, rain gear, sturdy footwear, sunglasses, and sunscreen. Carry plenty of water (at least 2 liters per person), or bring along a filter – untreated water from streams along the trail may contain Giardia, a parasite that can cause severe abdominal distress.

Stay on the trail. Alpine vegetation is extremely fragile. Careless hikers who cut switchbacks, along with frequent summer rains, cause tremendous erosion. Volunteers help restore and maintain this trail every year. Please respect their hard work by sticking to the trail.

The Harding Icefield Trail (in Orange) climbs ~3000 feet in elevation over 4.1 miles. The trail can be reached about .6 mile from the Exit Glacier Area Parking Lot. Winter conditions on the Harding Icefield TrailDuring the winter, the Harding Icefield Trail is covered in snow and is considered a "mountaineering route." You can expect to find steep, snow-covered slopes, difficult route-finding, and avalanche hazards.

Many of these challenges exist during the shoulder seasons (Oct, Nov, May, Jun) as well, when the trail will be covered in varying amounts of snow.When planning a trip in these conditions, we recommend that visitors have mountaineering skills, equipment, and experience to travel safely in this terrain.Necessary skills include route-finding, steep snow climbing and descending, self-arrest, and avalanche terrain recognition and rescue. Recommended equipment includes (but is not limited to) sturdy, warm, waterproof footwear, cold weather clothing including synthetic layers and waterproofing, communication devices (no cell service), trekking poles, ice axe, snowshoes or skis, avalanche transceiver, probe, and shovel. Bears can be a common sight along the Harding Icefield Trail. Be sure to learn what do when you see one, so that both you and the bear have a safe experience. NPS Photo

This is bear country! The vegetation along the trail is dense and passes through thickets of salmonberries, a favorite food of black bears. Black bears are spotted almost everyday from the Harding Icefield Trail. Take precautions and be aware of your surroundings at all times. Make noise when you hike to avoid surprising a bear. Be especially on the lookout for mother bears with cubs. You may see the cubs first, possibly up a tree, but the mother will be close by. Never get between a mother bear and her cubs.Pack it out. There are no garbage cans or toilet facilities along the trail. Pack out all litter. If you have to "go", dig a small cat hole at least 100 feet from the trail or from any streams or water sources. Be sure to backfill your cat hole when you are done. Toilet paper should be packed out with other trash.

Want some company? Hike with a ranger. Rangers-led hikes along the Harding Icefield Trail often occur during the summer. Walks depart from the Exit Glacier Nature Center. No reservations are required.

Planning to Camp? Camping is permitted along the Harding Icefield Trail corridor, but you must set up camp at least 1/8 mile from the trail on bare rock or snow. Follow the principles of Leave No Trace – limit group size, find a camp spot that is out of sight from the trail, and avoid crushing fragile vegetation. Camping is not permitted in the shelter at the top of the Icefield trail – it is for emergency use only.
Lake Clark National Park and Preserve
Day Hikes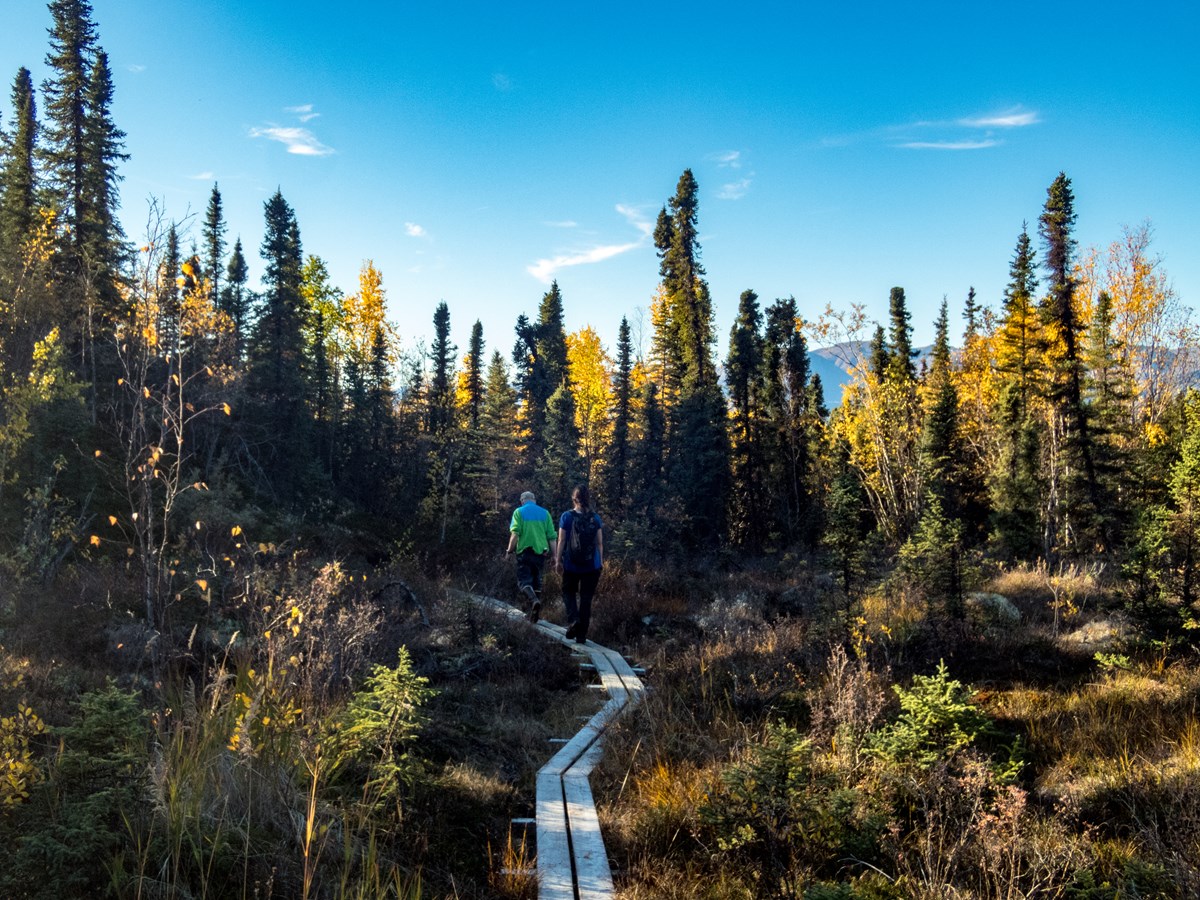 The Tanalian trail system from Port Alsworth offers great day hiking opportunities. NPS Photo / T. VaughnTanalian TrailsWhile day hiking opportunities are endless in places that can be reached by plane or boat, there are only two maintained trail system in the park and preserve. The Tanalian Trails originate in Port Alsworth in the heart of the park. The trailhead is located near southern-most airstrip in town. Stop by the park visitor center in Port Alsworth for current trail conditions and a trail map.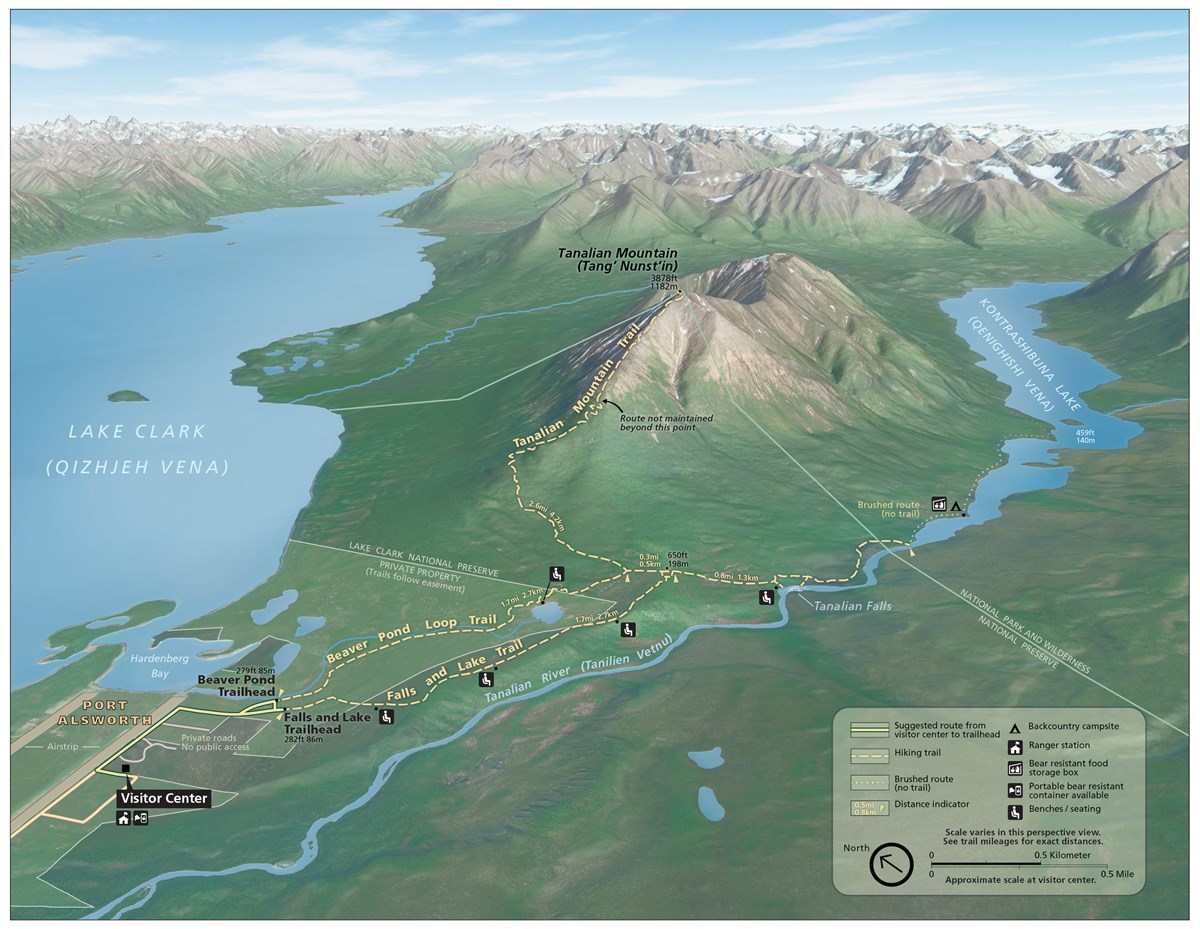 Map of the Tanalian Trails System in Port Alsworth, Alaska NPS Map/HFC, LACLHalf Day Hikes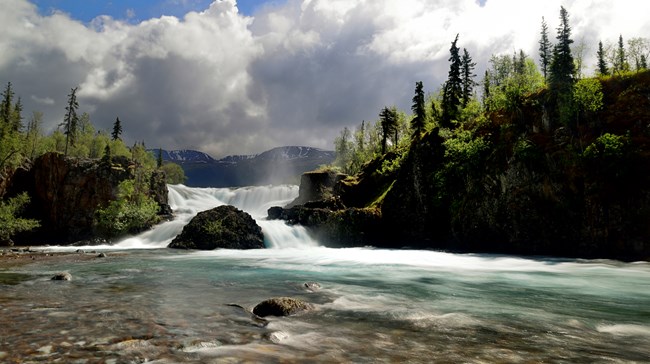 Tanalian Falls Photo Courtesy Of T. Tessier
Tanalian Falls
Length: about 4 miles round tripMeander through birch groves and up spruce studded hillsides to a stunning view of Lake Clark. Then round the bend and head down the gentle hill. On a summer day dwarf dogwood lines the trail, the sunlight dapples the forest floor, and the roar of the falls in your ears is deafening. Cold glacial waters fall over a 30 foot cliff of ancient lava. The mist falls coolly on your face and the view takes your breath away.

Kontrashibuna Lake
Length: about 5.5 miles round trip
Beyond Tanalian Falls, the trail enters Lake Clark's designated wilderness on its way to the serenity of Kontrashibuna Lake, a spectacular mountain gem.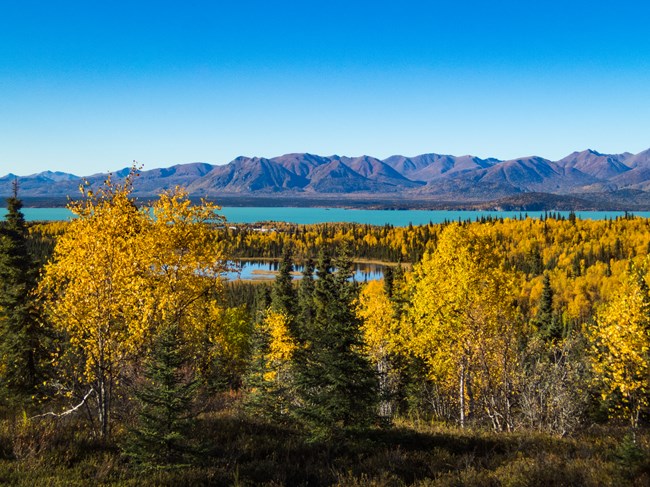 Beaver Pond and Lake Clark. NPS Photo/ T. Vaughn


Beaver Pond Trail
Length: 3.2 miles round trip

Any hike in the Tanalian Trail system can be made into a loop by returning on the Beaver Pond Trail. This trail meanders through quiet birch groves and past an old beaver pond where shorebirds nest in the early summer. Benches overlook the beaver pond offering a quiet place for reflection.

The trek to the Tanalian Falls can also be started on this trail. The Beaver Pond Trail offers a more gradual incline up to the falls.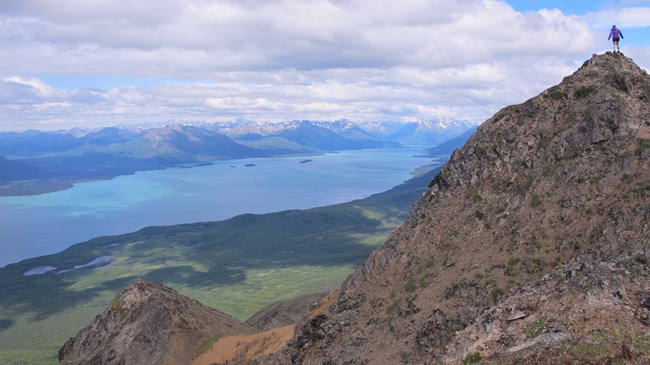 Tanalian Mountain. NPS photo/K Martin

A Whole Day Hike
Tanalian Mountain
Length: 8.6 miles round tripThe trail up Tanalian Mountain is steep and rigorous with stunning panoramic views of Lake Clark and the surrounding mountains.

Plan for at least eight hours to complete this trail. The trail begins along the Tanalian Falls Trail and offers views through a birch and spruce forest before starting the ascent up the rocky mountain. Alder and willow line the trail before elevation gives way to tundra.

Keep an eye out for sheep at the summit as well as a USGS benchmark before reaching the very top.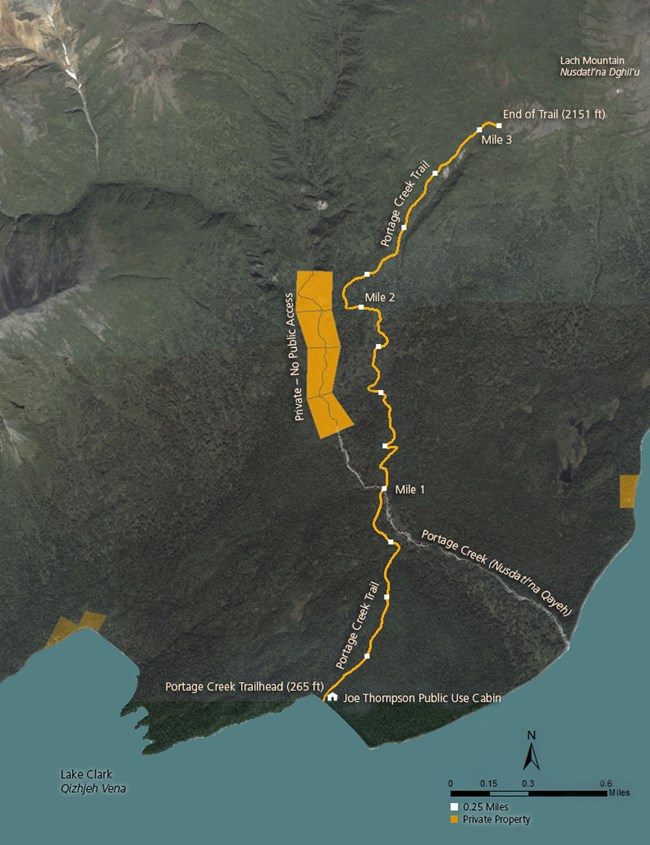 Other Day Hikes on
Lake Clark
The Portage Creek Trail is the only other maintained trail in Lake clark. The trail originates at the Joe Thompson Public Use Cabin (not visible from the lake), approximately 13 miles north-northwest of Port Alsworth. Visitors can access the beach in front of the cabin via boat or float plane and water taxis may be available from Port Alsworth. While there are no mooring buoys or boat docks at this location, watercraft can land on the beach. To the west of the cabin, and around the point (see reverse for map) is private property. Please avoid disturbing our neighbors.

The Portage Creek Trail begins near the shore of Lake Clark and continues over three miles through a thick spruce and birch forest, past alders and up to alpine tundra. The first mile is generally flat until you reach Portage Creek. Foliage on the trail can change drastically from season to season so be aware of where the trail is to avoid creating social trails or tresspassing on private property. After crossing the creek, the trail starts to ascend in a series of switchbacks. Stay to the left after crossing the creek to stay on the public trail. Please do not shortcut the switchbacks as this will erode the trail. The maintained trail ends in the tundra.
Distance: 3.25 miles
Elevation gain: 1850 ft
Width: Single track, ~12 inches
Surface: dirt and leaf litter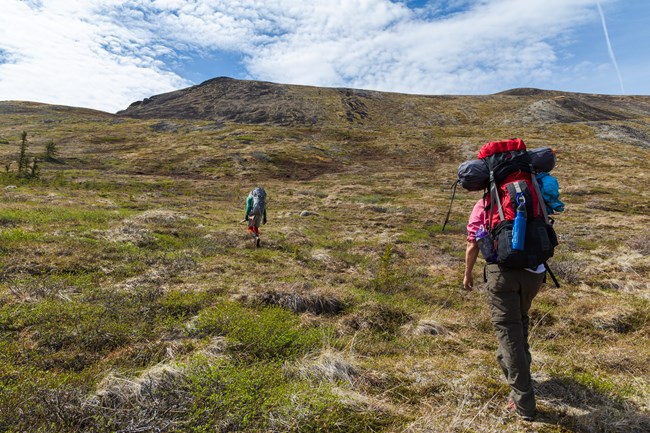 Hikers make their way through trail-less tundra NPS Photo/ T. Vaughn


Other Day Hikes Not On Lake Clark

A boat or plane ride can provide access to endless opportunities for trailless day hiking where the adventurous traveler can enjoy a climb up to alpine lakes or tundra meadows, a stroll across river gravel bars, or a challenging bushwhack up to a seldom-visited waterfall. Coastal beaches, high tundra, and lakeshores offer excellent hiking for the traveler seeking solitude and the challenge of finding their own route. Walking up to Teetering Rock on an unmaintained trail that begins behind Dick Proenneke's cabin is a popular hike for people visiting Upper Twin Lake.

When flying or boating to remote locations for day trips make sure you are prepared to spend the night if unexpected weather makes that necessary.