A Canadian Kayaking Adventure For Women
The following press release is courtesy of Wild Women's Expeditions:
CORNER BROOK, NL, CANADA, March 12, 2018 – The company that pioneered and now leads the world in women-only adventure travel will introduce its female guests this summer to a spiritually profound region of British Columbia accessed by kayak on a fully supported back country expedition.
Wild Women Expeditions' Great Bear Rainforest Kayak Adventurescheduled July 10-17, 2018, is a professionally outfitted, eight-day wilderness immersion expressing what it truly means to be wild. Days are structured only by the slant of the sun's rays and how far guests manage to glide their way down the crystalline waters of the Great Bear Rainforest. Here the only sounds for miles may be the call of a raven and the gentle splash of a paddle blade breaking the surface.
The per person rate of $2,995 CAD includes all activity and camping gear (kayaks, skirts, paddles, PFD's, paddling jackets, dry bags and all safety gear, tents sleeping bags, liners, camp kitchen and bathroom kit); all meals; return flight from Port Hardy to Bella Bella; water taxi from Dallas Island to Bella Bella; and the services of two certified female kayak guides. See https://wildwomenexpeditions.com/trips/great-bear-british-columbia/
The setting is a temperate rainforest of 1,000-year-old Western red cedar and Sitka spruce that spans the Pacific Coast of British Columbia and part of the world's largest remaining, pristine coastal temperate rainforest. Here, too, are the traditional (since 7190 BCE) territories of the Heiltsuk First Nation. The forest teems with life, including the "spirit (Kermode) bear," a white (thanks to a recessive gene) relative of the American black bear that also resides here, along with cougars and wolves. In the surrounding water are flitting dolphins and the blowing mists of humpback whales.
On this nomadic tour, guests cast their tents nightly on a new shore on beaches dotted with pebbles and shells. Weather, tide and sea conditions determine the itinerary on any given day in a maze of islands and channels waiting to be explored after guests fly from Port McNeill (a former logging camp on the North Island region of Vancouver Island) to Bella Bella, the main Heiltsuk community and once home of the Hudson Bay Company that engaged in the fur trade with this First Nations people.
"Our adventure in the Great Bear Rainforest celebrates the spirit of the international campaign to bring attention to this endangered coastline and its iconic wildlife. If we want to see precious places like this protected, we need to go there and enjoy them and show the world their tremendous value," said Jennifer Haddow, Wild Women Expeditions' owner and guiding director. "We support the end to the trophy bear hunt and making sure that threatened species such as sea wolves are targeted in a positive way by tourism."
This kayak odyssey is one of nine women-only itineraries that Wild Women Expeditionshosts in British Columbia. All rates are quoted in Canadian Dollars.
Additional sea kayak programs are offered worldwide. For a full list please see: https://wildwomenexpeditions.com/activity/all/kayaking/.
Wild Women Expeditions is founded on the beliefs that:
Women need opportunities to just be themselves, together;
The wilderness helps women connect with elements of their psyche that may be lost in the daily hustle and bustle;
Pairing women and wilderness often encourages women beyond their comfort zones, leading to increased confidence;
These ingredients can be transformational, perhaps leading to answers to the question that Poet Mary Oliver poses: What is it you plan to do with your one wild and precious life?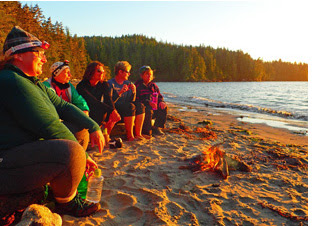 Women carry their accommodations (tents) in their kayaks, as well as food and personal belongings, into remote wilderness where come night, a campfire and the stars overhead provide the only light. Even though the company now hosts guests all over the world, it retains a national focus with more trips and more women-only, backcountry camping adventures in Canada and across the globe than any other company in the world.
For details, availability and reservations for this and all Wild Women Expeditions' programs call 1 (888) 993-1222, email info@wildwomenexpeditions.com or visit online at https://wildwomenexpeditions.com/.
About Wild Women Expeditions
Founded in 1991, Wild Women Expeditions is the world's largest women-only travel company. Its initial focus was on canoeing on remote Ontario waters. Through an unwavering focus on Canada, one of the wildest, most pristine countries in the world, Wild Women Expeditions became experts in a pioneering niche that introduced small groups of women into wilderness settings. The company now hosts guests all over the world, offering more trips and more women-only, backcountry camping, hiking, paddling and horseback adventures than any other women's travel company in the world.