It's hard to believe 2014 is already upon us. I'm now working on my fifth edition of Alaska Sporting Journal, and both the magazine and editor are works in progress. I hope we've delivered you some intriguing storylines thus far. And we hope to continue that well into 2014.
Here's a good story to chew on for your Jan. 1 entertaintment. Arkansas native Sheri Coker recently moved to Alaska, and she's fitting in this hunting-crazed state nicely. Here's a story via the Fairbanks Daily News-Miner on Coker, who is one of 12 finalists for the 2013 Prois Award, an annual national hunting prize given to a deserving female hunter. Here's a little of Coker's story:
The decision to submit an essay for the contest was a last-minute one, Coker said. She knew about the award after befriending last year's winner, Ruth Cusack, from Chugiak, Alaska, on Facebook to ask her advice on what kind of hunting gear to bring to Fairbanks when they made the move north this past spring.
When she saw something posted on the Women Hunting Alaska Facebook page in November encouraging women hunters in Alaska to enter the contest, Coker decided to give it a shot. She submitted her essay on the last day of the application period.
"I wrote an essay and sent in a picture and thought that'd be the last I heard of it," Coker said by cellphone Friday from Georgia, where she was preparing for a hog hunt with her husband. "I was very shocked when I got a phone call two weeks later and they told me I was a finalist."
Coker is the only Alaskan among the finalists and even though she's new to the state, she's hoping Alaskans get behind her like they did Cusack last year to put her in the running to win.
"I've had a lot of support from Alaskans and people in Arkansas," Coker said.
Congratulations to Sheri, and Happy New Year to you all.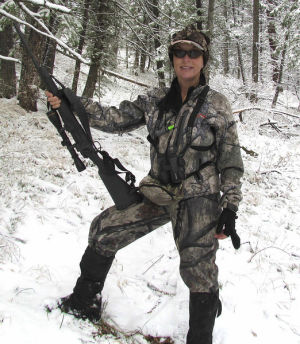 Photo courtesy of the Fairbanks Daily News-Miner