This just in: The Alaska Department of Fish and Game with a report on Santa's reindeer known to be congregating in Alaska.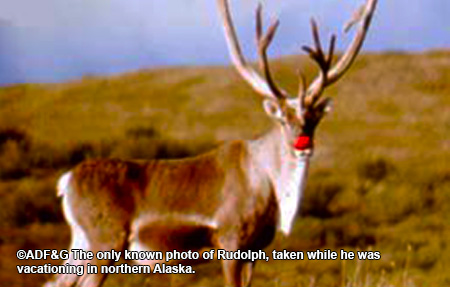 Among the "facts" about Santa's special deer:
Santa's reindeer are cared for by Mr. and Mrs. Claus, as well as a few specially trained elves, at the North Pole. Even though there are very few Santa's reindeer, they are not listed as a threatened or endangered species because their life expectancy is infinite.
Only a few facts are known about Santa's reindeer as they are more often heard than seen. Every Christmas Eve, sharp-eared children may detect the faint sound of harness bells and hoofbeats on rooftops. Department researchers encourage everyone to record observations and document sightings so that we can learn more about this rare subspecies.
Further data is available here on the ADFG website; only nine days until Christmas, folks. 🙂
Santa would be happy to deliver a subscription to Alaska Sporting Journal for the outdoors enthusiast in your life this Christmas. Click here for details about a great offer on either one, two or three years of ASJ.